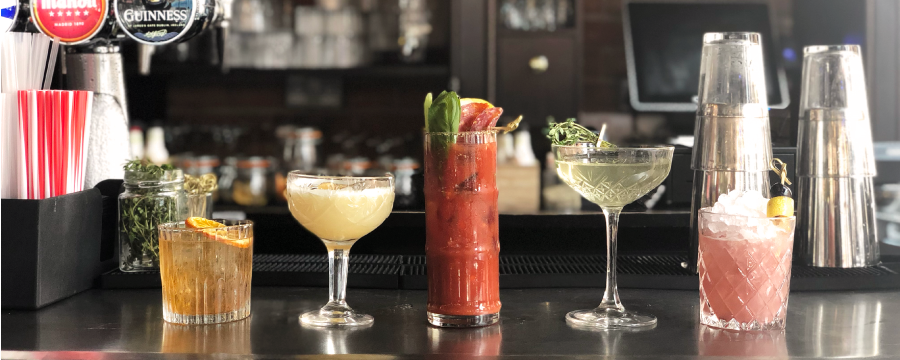 Cocktails
At The Blue Pig cocktails are our speciality, so you'll find some of the most kick ass cocktails in the Northern Quarter featuring many of the well-known (and lesser known) spirits that cram our shelves behind the bar. From fine aged exotic rums and unusual small batch gins to flavour filled vodkas and fancy tequilas; from single malt whiskies to liqueurs, sippers, snifters, aperitif and digestifs – our menu has it all!
Blue Pig Cocktails

Lemon Curd Collins

£7.50

Ketel One Citron, Limoncello, lemon curd, vanilla syrup, orange bitters, soda top

Gin Swill (Named by Gaz Millett) (vv)

£7.50

Tanqueray, Triple Sec, Chambord, coconut syrup, lime, pineapple juice

Negroni Bramble (vv)

£7.50

Tanqueray, Lillet, Pampelle grapefruit liqueur

Black Walnut and Coffee Rum Old Fashioned (vv)

£8.00

El Dorado 8, Tosolini coffee liqueur, walnut bitters, orange bitters, brown sugar

Red Rye Sour (vv)

£9.00

Bulliet Rye, OJ bitters, lemon Juice, chickpea foam, Tawny port float

Two's A Pear (vv)

£7.50

Santa Teresa Claro, Xante Pear liqueur, lemon juice, pear puree, caramel syrup, chickpea foam

Port Of India

£7.50

White port, orange zest, orange bitters, tonic water

Mexican Owl

£8.50

Tawny port, Montelobos Mezcal, Amaro, Mozart choc liqueur

Herb Garden

Sage Is Just A Number

£8.00

Tanqueray gin, sage, agave, apple juice, lemon juice

Take Your Thyme

£8.00

Portobello Road gin, Noilly Prat, lemon thyme, elderflower and green-tea syrup

Ginger fizz Julep

£8.00

Bulleit bourbon, St Germaine elderflower liqueur, ginger syrup, mint, lime juice, prosecco

Barrel Made

Blue Pig Old Fashioned

£8.00

Bullieit bourbon, maraschino cherries, orange peel, bitters, sugar

Blue Pig English spiced Negroni

£8.00

Gordons gin, Sacred spiced vermouth, Campari

Blue Pig Bloody Marys

Made with our secret blend of home-made spiced tomato juice and served with salted celery. Just let us know which style and how spicy you want it…

The Classic one

£7.00

Vodka

The Meaty one

£8.50

Vodka, sage pork salami, rosemary salami

The Vegan one (vv)

£7.00

Vodka, vegan Worcestershire sauce

The Mexican one

£8.50

Tequila and Mezcal, salt rim

The Japanese one

£8.00

Vodka, wasabi, soy sauce
Our bartenders skillfully shake and stir, what we believe to be some of the best Cocktails in the Northern Quarter. We carefully select our spirits, flavours and garnishes for every cocktail we make, so that even the finest of palates will be suitably impressed.
Our cocktails are made with premium spirits and have an array of flavours, to keep even the connoisseur wanting more. We create home-made syrups, and combine herbs and spices to give all our cocktails a unique taste and presentation, and nearly all the cocktails on our menu are vegan; look for the (vv) symbol!
Our master mixologists delight on engaging your senses with knockout originals and creative twists on classics to make sure we deliver some of the best cocktails in the Northern Quarter. We've a selection of herb inspired cocktails (perfect with a roast) and a menu of Bloody Mary's from Meaty to Vegan – all the perfect pick-me-up!
Our boozy, but grown up drinks list all have a foodie twist, and we give each drink extra special attention, including barrel making our Old Fashioned and Spiced Negroni cocktails for a fuller flavour and depth. 
You can also visit our Taste-Tastic masterclasses where we like to discover new cocktails in the Northern Quarter on a regular basis. We, host regular masterclasses and tastings for our cocktails, as well as craft ales, wines and spirits. Each one has a different theme and can be drink, food, or a pairing event. So please join us for some unique and memorable quaffing experiences.
Explore our cocktails here, or join us for one of our Taste-Tastic masterclasses.
See Also