COMING UP AT THE BLUE PIG:
HAPPY HOUR ALL DAY EVERY FRIDAY
Don't let that desk tie you down; Fridays are for long boozy lunches and knocking off early!

Happy hour drinks ALL DAY from 12noon with £5 selected cocktails (12pm-close), £3 selected draught (12-9pm) and £10 bottles of wine (12-9pm).

Get your weekend started as you mean to go on!
PIG-TUREHOUSE
BI-WEEKLY TUESDAYS | 8PM | FREE ENTRY
CULT FILMS SERVED UP WITH MOVIE INSPIRED COCKTAILS & SMALL PLATES!
Tuesday 4th April @ 8pm
PULP FICTION
Pig-turehouse's second instalment is Quentin Tarantino's 1994 kick-ass, genre redefining classic Pulp Fiction.

Pulp Fiction punches you squarely in the face from the get-go with a violent yet superbly funny interwoven tale of two hit men, a boxer, a gangster's wife and a pair of small-time robbers. Unforgettable dialogue, super stylised direction and a huge dose of pitch black humour make Pulp Fiction a true cult classic that has stood the test of time.

Plus: Amazing Pulp Fiction inspired cocktails & small plates - please ask for a menu on the night


FUTURE SCREENINGS: Fight Club // A Clockwork Orange // High Fidelity // Amelie // Reservoir Dogs // The Breakfast Club // American Beauty // Inglourious Basterds // Quadrophenia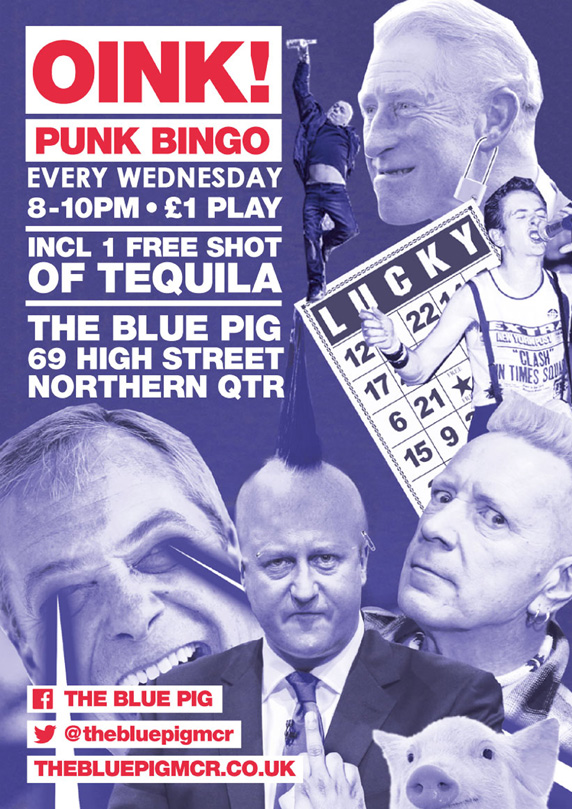 OINK PUNK BINGO!
EVERY WEDNESDAY | 8-10PM
£1 PLAY INC FREE SHOT OF TEQUILA // STUDENTS: FREE PLAY & SHOT WITH NUS!
+ BINGO HAPPY HOUR OFFERS 7PM-CLOSE: £5 2 X SOL, £3 HOUSE SPIRIT & MIXER, £3 AMSTEL PINT, £10 BOTTLE OF WINE

Oink! Punk Bingo at The Blue Pig Northern Quarter is a new fangled, pants dropping, white knuckle twist on the Great British pastime, playing classic hits from the 60's all the way through to the naughties.
There are prizes galore, so if you're done with the "2 Fat Ladies", but still got time for some Aretha (and fancy winning some lovely lolly to spend at the bar!), come Mods and Rockers, Punks and Rudeboi's, Greebos and Grungers, Dirty Wine'rs and Good Ol' Timers - come on down and party like its your Nan's 70th. If your Nan was Debbie Harry.
Weekend Music
FRIDAYS from 5pm | AFTERWORK DJs
Get your weekend started right with £5 happy hour cocktails all day & night (12noon-close) plus resident afterwork DJs slinging the best of Indie, Pop, Funk and Soul!

FRIDAYS from 9pm | DJ LEO MENACE
Hip-Hop, RnB, House, Disco, Electro, Soul and anything that makes you get up and dance with Friday resident DJ Leo Menace.

Mixing dancefloor filling classics, new gems and re-mixes, Leo is known for producing a unique, genre-hopping sound that's seen him play in clubs, festivals, bars and parties all over the country, from Notting Hill Carnival in London to Tramlines in Sheffield and The Ritz and Sankeys in Manchester.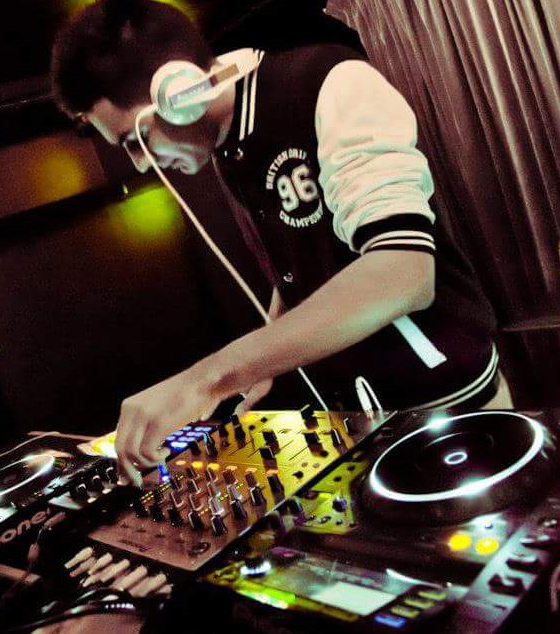 SATURDAYS from 8pm | PB&J Present HIPHOP/FUNK/SOUL/R&B SATURDAY JAMS

Saturday residency with PB&J DJ collective brings you the best hiphop, funk, soul and R&B known to man at their Saturday Jam sessions. Seriously good booty-shaking tunes and best times in NQ.
Between them, the three DJs of PB&J collective have pretty much played in every bar and club from the Northern Quarter, Deansgate, Chinatown to the spots tucked away somewhere in the City centre. Focusing on keeping an organic sound and feel, expect to hear the likes of James Brown, A Tribe Called Quest, Aretha Franklin, Erykah Badu and Kaytranada. PBJ have a consistent flow of sounds that are sandwiched with edits and remixes that keep the feel of the old with the new.
Piggy Offers
HAPPY HOUR
Monday - Thursday 5-7pm & Fridays all day & night from 12noon-close:
Fabulous selected cocktails £5 For our full cocktail menu, click here.
Monday - Thursday 5-7pm & Fridays 12noon-9pm:
Fine Wines just £10 a bottle
Amstel pint £3


+ Oink Punk Bingo Happy Hour: Every Wednesday 7pm-close with £5 2 X SOL, £3 HOUSE SPIRIT & MIXER, £3 AMSTEL PINT, £10 BOTTLE OF WINE
Tastings & Other Delights
On our quest to discover new delights, we host regular events and interesting tastings – ask at the bar for details and join us for some unique and memorable quaffing experiences.
Keep checking the site or keep in touch with us on Facebook and Twitter.